Captain's Award
Presented by Friends of Chatham Waterways to honor distinguished service in the protection and preservation of Chatham's waterways and neighboring lands.
YEAR HONOREE(S)
2002 Douglas B. Wells
2003 Coleman C. Yeaw
2004 Jean A. Young
2005 Paul R. Kelley
2006 Gordon Pearce
2007 Rob Carlisle, Barbara Waters
2008 Richard Batchelder
2009 Norman and Carol Pacun
2010 Fred O. Jensen
2011 Jane S. Harris
2012 William Appleyard
2013 George Olmsted
2014 Kurt Hellfach
2015 George Cooper

2016 Kristin Andres


The Captain Award plaque hangs in Chatham Town Hall to the left of the door to the Selectmen's office. A suitable memento is provided for honoree(s) to retain and a "suitable for framing" certificate is presented to each honoree.


Lewis E. Kimball Scholarships
Scholarship applicants should contact the Scholarship Committee Chair, William Coleman, at 600 Orleans Road, North Chatham MA 02650 to request additional information.
Friends of Chatham Waterways is offering Kimball scholarships of up to $2,500 to graduate students and upper level undergraduate students majoring in marine or environmental studies. It is our belief that providing grants at the graduate and undergraduate school levels will enable and encourage young men and women tomorrow's leaders to commit themselves to careers in these fields.
Graduate students, and undergraduate applicants entering their junior or senior year of college within the next 12 months, must be majoring in Environmental Studies, Environmental Management, marine ecology or related subjects in these fields.
Lewis E. Kimball Scholarship Application
Friends of Chatham Waterways
$2,500 SCHOLARSHIP FOR ENVIRONMENTAL STUDIES


Click the image below to
download
an Application for the Lewis E. Kimball Scholarship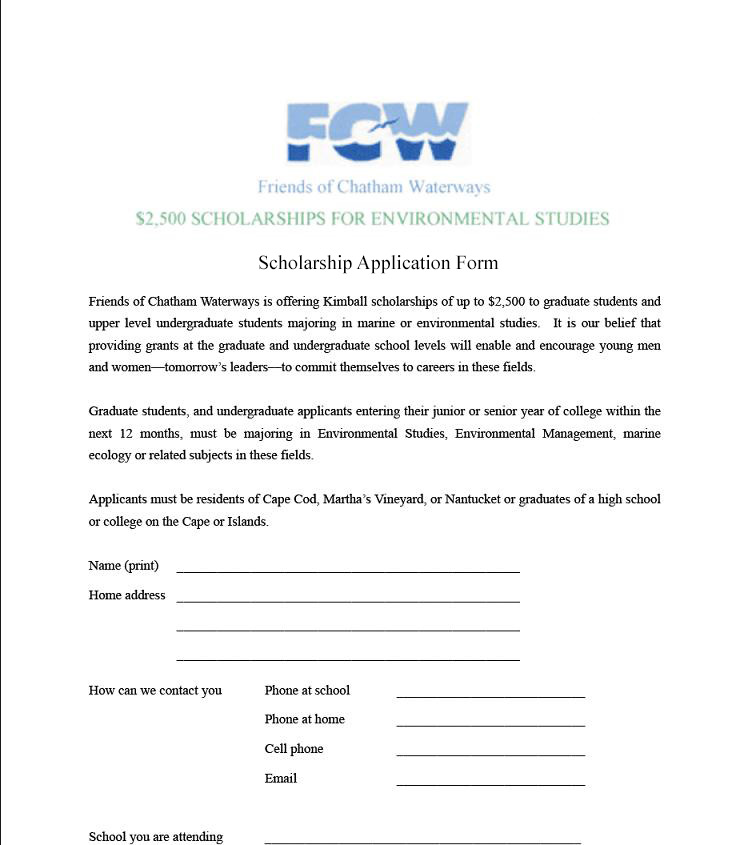 By March 31, 2017, send the completed application to:
William Coleman, Committee Chair
Friends of Chatham Waterways
600 Orleans Road
North Chatham, MA 02650
LEWIS E. KIMBALL

ENVIRONMENTAL SCHOLARSHIP WINNERS
2012-2013 Academic Years
AARON BRYANT, Mashpee, is enrolled in the Nicholas School of the Environment at Duke University in a two-year Master of Environmental Management program. He graduated cum laude with a Political Science degree from Duke, and plans to mesh this background with his focus on stormwater management. Working under the auspices of the Association to Preserve Cape Cod, he interviewed municipal officials and noted a common theme: the desire for third party expertise. He wants to be the third party to aid public and private sectors deal with stormwater.

ALEXANDRA COOK is a junior at the University of Massachusetts-Amherst. Her focus is on wildlife ecology and conservation, protecting native fish, birds and wildlife species or restoring habitats. She has worked in Wellfleet assisting a graduate student researching diamond-backed terrapins and at the Monomoy National Wildlife Refuge in Chatham, assigned to nesting terns.

ZACHARY SCOTT graduated from the University of Massachusetts-Amherst with an Environmental Science degree. In an Honors College Research Study he studied the impact of commercial bee genes on the gene pool of native bees. No one in the United States has studied this. Bees pollinate cranberry crops, among other plants, and this is a very serious issue on the Cape, because breeders are bringing in commercial bees from elsewhere without knowledge of benefits or adverse effects. He plans to apply this fall to graduate school to study entomology and/or conservation genetics.

2011-2012 Academic Years
Ashley Harrington, Brewster, completed a 2-year course of studies at Cape Cod Community College with high grades and begins her Junior year at the University of Maine, Orino. She is majoring in Marine Biology and hopes to to on to graduate school.
Melissa Patrician, graduated magna cum laude from the University of Rhode Island and has worked as a research assistant at Woods Hole Oceanographic Institute. She is now in the first year of a Ph.D. program at the State University of New York at Stony Brook, N.Y., where she is specializing in the ecology of whales. her award is the first time that FCW have so honored a graduate student.
2010-2011 Academic Years
Nicolle Bramer
, Brewster, attends the Rubenstein School of Environmental Science and Natural Resources, University of Vermont. She expects to graduate this December (2010) and, after gaining experience in environmental consulting, hopes to obtain a Master's Degree. Her special interests are: water quality, and wetland management and restoration.
Carissa Giacalone
, Brewster, completed a 2-year course of studies at Cape Cod Community College and begins her Junior year this fall (2010) at UMass-Lowell where she will major in environmental studies and minor in secondary education. She hopes to get a Master's Degree and then to become an environmental science teacher in a middle school, preferably in Massachusetts.
2009-2010 Academic Years
Katelyn Hart
, Chatham, majoring in Marine Affairs, will graduate December 2009 from the University of Rhode Island. She has worked part-time for the Cape Cod Commercial Hook Fisherman's Association. After graduation, she will move to Washington State to participate in the Fisheries Observer Program on commercial vessels and to obtain a Masters Degree in Fisheries Management at the University of Washington.
2008-2009, 2009-2010 Academic Years
Megan Starr, West Barnstable, scholarship holder for her junior and senior years at Harvard University where she majors in Environmental Science and Public Policy. She intends to go to Law School to prepare for a career in environmental policy, lobbying for environmental regulation. She has attended the summer School for Field Studies: Marine Parks Management, worked at the Woods Hole Research Center and held a summer internship at the Alliance for Climate Protection in Washington, D.C.

2007-2008, 2008-2009 Academic Years
Christine Harris, South Orleans, scholarship holder for her junior and senior years at Ithaca College where she majored in Environmental Studies. Summers, she has been a Visitor Assistant and Interpreter at the Cape Cod National Seashore. She plans to pursue a Masters Degree leading to a career as an environmental educator.
---